I have three or four posts worth of content this long holiday weekend.
Saturday: A Cautionary Tale
Saturday at the community garden is marked by an epic fail that confirms experienced gardeners do stupid things.  This is one I'll be paying for all season, and possibly well beyond.  Let's just say I generally use landscape fabric there for weed control, but for some reason I decided I'd use salt hay this year. Which was, of course, sold out from every garden center by the time I got around to looking for it  (I do in fact, have a day job!).  A trusted local garden center insisted straw would be fine. So I looked it up on the interweb, and read that by definition, straw should have no seed heads.  Imagine my surprise when I get to the garden, unpack the straw, pull some out from the bale, and there it is:  Seed heads everywhere. I should have thrown it out on the spot. But I didn't.  I put it down, and at some point in the future, the weed suppressant will be the weed source.  And of course, all this happened after the hay blew all over my car, which is another mess –and another story!
Sunday: Lazy Day Enjoying the Garden and Nature
At the home garden, everything's coming into bloom at once. We can thank the sun and heat for that.  A few weeks later than usual, peonies are in full swing.  Cut several vases full, and will be giving some to friends.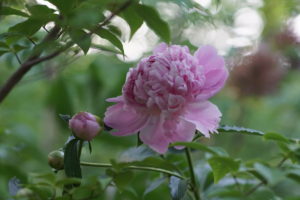 My dad gave me these two peony plants. Each year, they remind me of him when they come into bloom. The white is a favorite, with its subtle fragrance.
Early in my gardening adventures, I was obsessed with antique garden roses. The two that have remained have earned their place — they're beautiful, tough survivors and ]fragrant:  The Quatre Saisons and Felicia.  Felicia is one of Pemberton's hybrid musks.  I love the delicate blossoms and the way it can be trained as a small climber.  It has survived being dug up and replanting when we built our addition.  It can also be seen inside our back room, backlit by the sun.  The Quatre Saisons similarly has survived multiple moves around the garden.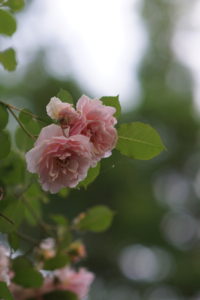 Sunday Supper
From community garden, I brought home a respectable haul of rhubarb, French breakfast radishes (so pretty, and tasty), and gorgeous greens:  pak choi, lacinto kale, so many lettuces, tiny chard. The rhubarb made a delightful dessert in this delicious recipe by David Lebowitz.