With a minimum amount of work and maintenance, Fall bulb planting can have a big payoff come Spring.  Aside from the time choosing the varieties to plant, the actual prep and planting is very quick (see my November 7, 2015 post).
There is nearly  no maintenance involved come Spring, aside from removing the yellowed stems and leaves, once it has fully run its course.  You may also want to add a touch of bulb fertilizer at the right time, but that's about it.
One concern folks generally express is that bulbs can look messy once the flowers are gone and you're waiting for the leaves to die back so you can remove them.  Your planting scheme can help here — for example, I tuck the bulbs in between shrubs or other plants that will emerge, as part of an overall scheme.  In one area, it's tucked among an azalea and evergreen shrubs on one side, while on the other, a spirea and evergreen. Ahead of it are a variety of green perennials, including hosta, lamb's ears and Lady's Mantle, which will soon be in the the focal point in the foreground.
As for those little tulip orphanaeda flava in the backyard, here's what it ultimately looks like in bloom. It's tucked among some boxwoods, a peony, climbing hydrangea and variegated hostas.  It gives the smallest pop of color with the grape hyacinths among the cool green palette.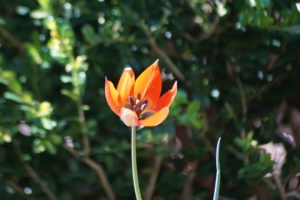 Try out a small area of bulbs this Fall, and be rewarded with a little joy next Spring.